What Is a Vehicle Wrapping?
Vinyl films for vehicle wrapping are designed specifically to be applied directly on a vehicle's body or on its trim. Vehicle wrapping or paint wrapping is a true art that gaining in popularity increasingly. Already very popular in the United States, the wrapping market is growing in Quebec.
It is not surprising to see that vehicle wrapping is so popular. Vinyl wrapping films offers to fans of vehicle customization unique possibilities with colours and finishes that have nothing to envy to even the most premium paints for vehicles. Vinyl films expand the possibilities of vehicle customization. There is a wide range of films available for vehicle wrapping. Main advantage of vinyl film is it removability. Once installed, the film can be removed at any time without the risk of damaging the OEM paint. Instead, it will protect the vehicle's original paint from scratches and damaging UV rays. Vehicle wrapping is an excellent solution for whoever wants to give a unique look to his vehicle as well as for a company that wants to use its fleet of vehicles as a promotional tool.
5

Benefits of Choosing Vehicle Wrapping::

1. Offers endless customization possibilities :There is a wide variety of wrapping films available in several finishes (matte, metallic, chrome). In addition, companies like Avery Dennison are constantly working to develop unique new colours and finishes.

2. Protect the OEM paint : Installed on a new vehicle, the wrapping film will protect the original paint. Thus, by the time the film is removed, the paint will have retained its original brilliance and shininess.

3. More affordable than repainting your vehicle :In most cases, the cost of a paint wrap will be much lower than repainting the vehicle. With high-quality vinyl film and careful professional installation, the finish will be as if not more aesthetic than a high-quality professional paint.

4. Non-permanent, the wrapping film can be removed at any time (ideally in a specialized facility to avoid damaging the OEM paint): One significant element to consider is that vinyl film allows the possibility to change the look of the vehicle as many times as one desires, unlike a paint that, once applied onto the vehicle body surface, will be much more difficult to change.

5. Paint wrapping takes less time to make than traditional painting:The entire process to paint a vehicle includes many steps that can take up to 2 weeks. It takes between 35 and 40 hours of work to prepare and wrap the vehicle entirely. While a painting requires approximately 80 to 100 hours of work, consideration must also be given to the period of time when the vehicle will not be available. It will therefore take several weeks before retrieving the vehicle. On the other hand, a vehicle wrapping will usually be done in less than a week and there will be no need to remove body parts of the vehicle.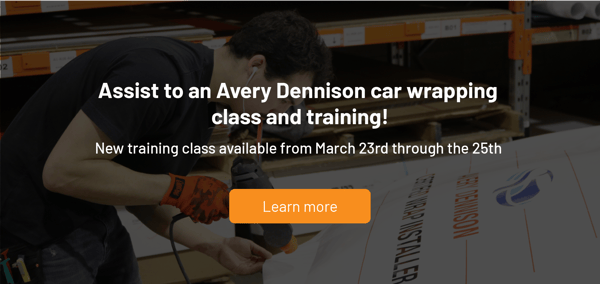 Precautions to Take to Maximize the Expected Life of a Vehicle Wrapping:

1. Pay special attention when washing the vehicle: According to Avery Dennison Graphics, it is recommended to wash the vehicle every 2 weeks. If the vehicle is very dirty, it will be recommended to wash it using a mild car cleaning detergent that does not contain abrasive components and with a pH balance between 5 and 9. To prevent vinyl film of premature degradation, be sure to rinse all vinyl wrap with water to remove all the loose dirt particles.

2. Clean the vehicle, if not overly dirty: with waterless wash products as it can help maintain the gloss level and performance of the film.

3. Avoid automatic car washes: prioritize hand washing rather than an automatic station to wash your vehicle.

4 Use products that maximize the lifespan of wrapping film: : for safe and effective wash, we recommend Avery Dennison Supreme Wrap Care Cleaner and Supreme Wrap Care Power Cleaner products. To provide premium protection, it is also recommended to use Avery Dennison Supreme Wrap Care Sealant

5. If possible, avoid parking in full sun: Prolonged exposure to UV rays may lower the expected life of the vinyl film. Prefer parking in the shade or in a garage.
In What Context Painting the Vehicle Will Be a Better Option?
To be effective and durable, the wrapping film must be installed on a body free of scratches and dirt. Vinyl film should not be placed on damaged paint in order to hide scratches. In fact, it will become even more visible and will reduce the effectiveness of the adhesive properties of films.
Therefore, in the event that the vehicle paint is damaged or there is a presence of rust, vehicle wrapping is not recommended.