It's not uncommon for plastic parts and components to crack or turn yellow because of prolonged sun exposure, but is this true of all plastics?

The short answer is no, not at all! In fact, if a plastic is adversely affected or degraded by UV exposure, it's simply not suitable for outdoor use. By choosing the right type of material, you can prevent UV radiation from damaging its structure. In this article, we'll discuss 5 plastics with excellent UV resistance. This characteristic is obtained by adding additives to the base resin. These plastics are therefore well suited for outdoor use, as they can withstand harsh weather.
General-purpose UV-resistant plastics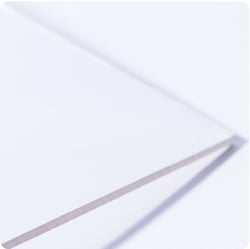 Better known under the trade name Plexiglas®, acrylic is a versatile clear thermoplastic. It's frequently used for glass replacement, signage and displays, both indoors and outdoors. In addition to its excellent UV resistance, acrylic is also highly resistant to impacts (17 times more than glass). While often transparent, acrylic is also available in a wide variety of colours and thicknesses.



2. Polycarbonate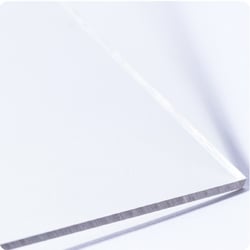 Often confused with acrylic because of their similar appearance, polycarbonate, also known by the trade name Lexan®, is a thermoplastic frequently used in the design of protection shields. Its impressive impact resistance (250 times greater than glass) is by far its most advantageous property. Polycarbonate is offered in a bullet resistant grade (BR) capable of withstanding the impact of bullets from various calibre firearms. UV-stabilized polycarbonate can also be used outdoors.
3. HDPE (high-density polyethylene)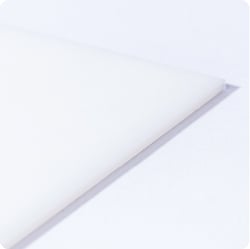 High-density polyethylene is a plastic that offers a good combination of mechanical properties, particularly stiffness, durability and impact resistance. It's a highly suitable choice for outdoor applications. Since HDPE can't be damaged by UV rays, it's frequently used in the design of children's outdoor playground equipment.
To learn more about HDPE, check out our article:
The advantages and applications of HDPE
High-performance UV-resistant plastics
4. PTFE (polytetrafluoroethylene)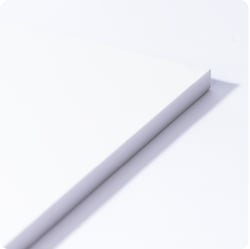 Known as Teflon®, PTFE is a polymer with impressive chemical and thermal properties. It has one of the lowest coefficients of friction of any plastic, allowing it to reduce friction and wear without the need for added lubricant.
Curious to know more about Teflon? Check out our article to learn about the myths that surround this material: 4 Myths about Teflon.


5. FRP (fibre-reinforced plastic)
FRP is a thermosetting plastic with glass fibre reinforcement. Additives are also injected into the resin to further enhance its properties. These combinations make FRP a high-performance material. Because of its excellent UV resistance, it's often used in the manufacturing of structures and structural components for outdoor use.
FRP is used to produce gratings as well as a wide variety of profiles. Its mechanical strength, chemical compatibility and density make FRP a suitable and advantageous alternative to common materials, such as steel, for a multitude of industrial applications.
To learn more about FRP, read our articles:
4 Questions to Help You Choose the Right Structural Material
FRP in the Food Sector