FRP is a new generation composite material that combines the lightness of polymers with the strength and toughness of fibreglass. Thanks to its exceptional ability to adapt to mechanical, chemical and environmental constraints, FRP is ideal for designing structures, ladders, walkways and any other structural component previously made of steel. It is available in a multitude of shapes and sizes to accommodate any design requirement: gratings, H-beams, angles, square or round tubes, plates, threaded rods and more.



«FRP's extensive range of products includes more than 100 different profiles as well as about 50 grating models »

Alex Tremblay, Eng.
FRP vs. steel
FRP offers significant advantages, especially when compared to more "traditional" materials, such as steel. Although known for their great strength, resistance and impressive durability, steel structures have several weak points that must be taken into consideration when selecting materials.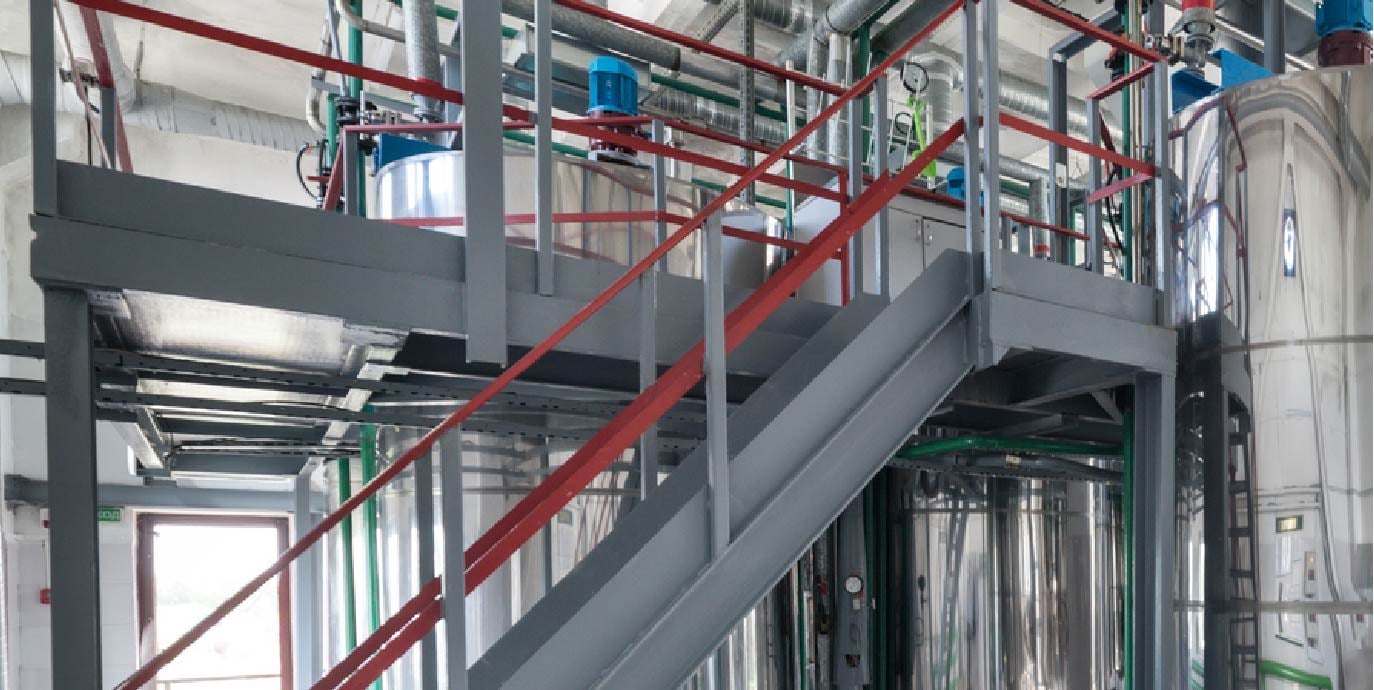 High levels of humidity along with the presence of corrosive products will have a significant impact on the service life of metal structures. Rust is indeed a major issue, causing premature degradation and loss of mechanical properties. It is also necessary to evaluate the initial installation costs as well as maintenance expenses all while considering the overall service life of steel structures. This metal will not only need to be treated and painted but also require more rigorous maintenance to ensure an optimal durability.
FRP is therefore a more suitable choice for applications and environments that require exceptional corrosion and chemical resistance.
4 reasons to choose FRP gratings


Excellent mechanical properties

Being a composite material, FRP is significantly lighter than steel and has excellent mechanical properties, making it a very advantageous material. In comparison, a steel structure will be almost 75% heavier than a structure made from FRP.
Corrosion Resistance

The most impressive characteristic of FRP is without a doubt its outstanding resistance to rust, which is a decisive factor when choosing materials. FRP can come in continuous contact with water or other corrosive products, which is why it is sometimes used to manufacture docks or structures for wastewater treatment plants. Its anti-corrosive properties also allow it to tolerate aggressive cleaning without adversely affecting its mechanical and structural attributes.
Superior service life

Since FRP structures are resistant to rust, weathering and chemicals, they will last longer than those made of steel. In addition, FRP structures require little maintenance and do not need to be painted or sandblasted. They are also well suited for outdoor use due to their excellent UV resistance.


Easy to install

Because they are extremely light (up to 75% lighter than steel structures) and do not require welding, FRP structures are much easier to install than metal ones. In addition, this light weight makes them much easier to handle.
FRP in the food industry

Some FRP grades are specifically designed for use in food environments. Since the standards and requirements of this industry are much more stringent in terms of food safety, the choice of materials must be made accordingly. FRP's key properties allow it to maintain strict food-safety standards. For example, its high resistance to corrosion and chemicals prevents it from rusting and degrading prematurely. In terms of safety, FRP is available with an anti-slip finish to reduce the risk of falls. It is a cost-effective solution that allows you to avoid the disadvantages of traditional materials, such as stainless steel.
Other industries


Wastewater treatment



FRP is a popular material when designing structures, walkways and railings in environments where their metal counterparts quickly rust, causing premature wear. To learn more about the additional benefits of FRP for wastewater treatment plants, see our case study.

Case Study: FRP for a Water Treatment Plant


Mining Sector

Structures in the mining sector are continually subjected to high levels of moisture and corrosive chemicals, making FRP ideal for this type of environment. To learn more about FRP in the mining sector, read our article, Mining Sector: 3 Optimization Solutions.