Prevent contamination with non-absorbing, odourless, easy-to-clean, custom surfaces. An ideal solution adapted to the needs of the food processing and food service industries.

In the food industry, hygiene and food safety regulations recommend that food-preparation surfaces be non-absorbing and impermeable. Work station surfaces must also be resistant to cracks and crevasses caused by cutting implements and other utensils. And finally, the surfaces must withstand thorough cleaning and disinfection.
Many commercial kitchens and food processing plants are equipped with cutting boards and food processing equipment made of materials that absorb liquids, flavours (flavour-transfer) and odours. This encourages the appearance and proliferation of bacteria, which can contaminate the food.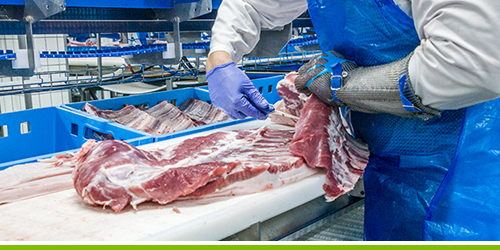 Sanalite® HDPE has all the features and advantages required to ensure food safety.
Sanalite®, a plastic made of high-density commercial-grade polyethylene, is additive-free, non-absorbing and odourless. Lighter than wood, glass or marble, it has a granular surface that is gentle on cutting implements and resistant to frequent, rigorous cleaning. Also mold-proof, Sanalite® meets hygiene and food safety standards, namely those enforced by the FDA (Food and Drug Administration), USDA (U.S. Department of Agriculture), NSF (NSF International) and Ag Canada (Agriculture and Agri-Food Canada).
Applications in the food processing industry:
Used on cutting boards, food preparation tables, pastry boards, butcher blocks and more for restaurants, fast food establishments, delicatessens, bakeries, butcher shops, fish shops and food processing plants.
HDPE Sanalite®'s key features:
Commercial-grade and additive-free HDPE— inert to make it safe for contact with food
Does not absorb liquids, flavours or odours — prevents the proliferation of bacteria and food contamination
Mold-proof — prevents food contamination
Lighter than wood, glass or marble — an undeniable advantage for cleaning and handling
Easy-to-clean surface that withstands harsh cleaning products and frequent cleaning — vital for safe food handling
Rough surface that is gentle on cutting implements — does not damage knife blades and keeps blades from accidentally slipping, like on marble or glass
Crack-, crevasse- and flake-resistant — prevents food contamination and prolongs the surface's useful life
Respects hygiene and food safety standards — FDA, USDA, NSF and Ag Canada
Sanalite® HDPE is available at PolyAlto, in store and via order, in white. Standard sizes or custom-cut to meet your needs. Other products with the same features as Sanalite® are also available in a variety of colours.
HDPE's non-absorbing properties, combined with a rough, mold-proof surface that is resistant to cracking and fissures make Sanalite® an excellent choice for safe food handling and processing.
To consult our online product catalogue: HDPE Sanalite®