Machine Tools Safety: polycarbonate provides clear view and protection
Without question, health and safety at work is crucial. At the workplace or on a building site, in addition to work accidents related to unsafe behaviour, moving machine parts as well as falling objects on the operator cabin of motorized equipment during the operations have the potential to cause work injuries.

In order to prevent and eliminate these hazards, any machine part that may cause injuries must be safeguarded and any motorized equipment must be protected against falling objects by a protective structure to avoid placing the safety of workers at risk. These protection systems must be designed to ensure maximum visibility and comfort to the worker.

Makrolon® GP polycarbonate (PC) is a material with glass-like transparency and that is 250 times more resistant to impact than glass. Unlike others, this material is the strongest of its category for safety. Polycarbonate has exceptional high impact strength and is characterized by an excellent toughness and durability. It offers an interesting protection in heavy traffic applications. Its heat and flame-retardant properties ensure greater protection for workers. Abrasion resistant (AR) polycarbonate Makrolon®, that offers higher abrasion resistance and surface hardness, is also available.
Key properties of polycarbonate Makrolon®:
Outstanding impact strength: to ensure maximum of safety. Unlike glass, polycarbonate will not splinter or break;

High clarity: which allows optimal and all-around view to workers during operations;

Lightness: the combination of lightness and toughness of the polycarbonate offers undeniable benefit in many applications;

Thermoformable: allows the sheet to be curved and designed for the application while improving the aesthetic and optical properties;

Excellent thermal resistance: which allows the material to resist to impact at high temperatures as under the freezing point;

Superior dimensional stability: shape and size of the polycarbonate will remain unchanged under a wide range of weather conditions;

Heat and flame retardant: an essential feature to ensure the safety of workers, whether in a cabin of motorized equipment or near a machine during its operation.
Applications on machine tools safety:
Protective screens and guards of machine tools
Safety windows
Clear protective structure on motorized equipment
(skidder, excavator, dump truck, etc.)
Safety face shield
Spark arrester
Noise barrier
Protective housing
Outstanding impact strength of polycarbonate combined with excellent optical and thermal properties as well as its ability to be thermoformed make this material an exceptional choice to design safety systems and to avoid placing the safety of workers at risk.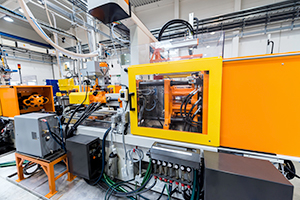 Learn more about Polycarbonate products in our online product catalogue