What is MD Plastic?
The food industry needs to rigorously control its production facilities to guarantee the quality and safety of food products. In this field, a company's reputation ultimately hinges on reliable solutions that reduce the risk of potential contamination.
For a company, the negative repercussions of food contamination are numerous. For example, if a metal particle accidentally falls onto the production line or even directly into a food product, the health of the consumer will be at risk, and the company's brand image will take a big hit. It is therefore essential for food production plants to acquire metal detectors that will be able to catch even the slightest metal impurity on the production line. But what if the impurity is not a metal particle, but rather a plastic particle that winds up on the food production line? That's where MD plastics (or metal detectable plastics) come in. In fact, this category of plastics has unique properties.

As the name indicates, metal detectable plastics can be detected by metal detectors. As such, food product manufacturers will be able to ensure that their products are free of metal contaminants and plastic contaminants. To learn more about food contamination we suggest you read our article:
What Makes MD Plastic Metal Detectable?
Metal detectable plastics can be detected by standard industry metal detectors. This is because MD plastics contain a metal-based additive that allows the plastic to be detected by industrial metal detectors, without changing the properties of the plastic itself. If a piece of metal detectable plastic happens to come loose and accidentally fall on to the production line, the impurity will quickly be caught by the metal detector, thus preventing an expensive product recall process.
Metal detectable plastics contain enough of a metal additive to ensure that on a food production line, a metal detector will be able to intercept a metal detectable plastic. MD plastics are high performance plastics that meet the highest standards and requirements of the food production industry:
CFIA
FDA
3-A Dairy
Canada AG Standards
Because of these unique properties, metal detectable plastic helps guarantee safe food production, processing and packaging by food processing plants. By replacing additive-free plastic parts with metal detectable parts, we can greatly minimize the risk that a contaminant or piece of plastic will slip through the cracks and make its way onto the production line and into the food product in question.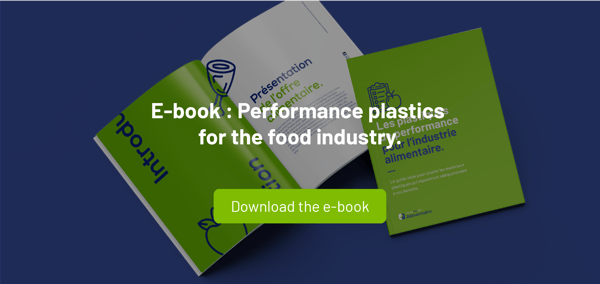 The Benefits and Applications of MD Plastics
In the food processing industry, MD plastics offer a number of benefits such as:

• Traceability throughout the value chain and control over the production process
• Prevents the contamination of food that comes into contact with plastic materials
• Visual detection by blue colour
• Low coefficient of friction
• Noise reduction
• Self-lubricating properties
• Very low moisture absorption rate
• High strength
• Energy efficient (lighter parts)
• Lower maintenance costs
Metal detectable plastic applications:
Guides
Cutting boards
Food production chutes
Conveyor parts
Wear strips
Pistons
Tanks
Wall coverings
Distribution spouts
Endless screws
Rollers
Guardrails
Star wheels
Gaskets
Food presentation displays
For even more targeted applications requiring superior performance and efficiency, some plastics are metal detectable as well as self-lubricating.