In a context where the need is to optimize production, manufacturing and packaging processes, the ultimate goal is to reduce friction on production lines. That is why performance plastics are perfect materials for demanding environments. These plastics outperform in high friction applications, especially on conveyor equipment and high-speed production lines. To be fully effective, components on equipment must include materials with low coefficient of friction. Another option is to add lubricants that will improve the production flow by reducing friction. On the other hand, the use of an additive to lubricate traditional materials will increase the risk of contamination. It is possible that particles of lubricant accidentally fall onto the production line or even directly into a food product. The optimal solution is therefore to switch to self-lubricating plastics which, because of their characteristics, significantly reduce friction. In addition, because they are self-lubricating, no additives of lubrication are needed to reduce friction. For example, the Nyloil® FG nylon is a perfect material for conveyor surfaces.
The Benefits of Nyloil® FG to Reduce the Risk of Contamination:
FDA-approved and safe to be in direct contact with food.
Reduces the risk of contamination due to additional lubrication. This eliminates the risk of lubricant particles coming into contact with processed foods.
Resistant to most cleaning agents; frequent cleaning will be possible without degradation of material properties.
The Characteristics of Nyloil® FG:
Coefficient of friction of Nyloil® FG is 25% lower than standard grades of nylon and lower than other low friction plastic materials.
Thanks to its self-lubricating properties, the natural oil microparticles that are dispersed within its nylon matrix promote higher dimensional stability. As a result, there is less space available for moisture absorption. Thus, its water absorption is lower than other unfilled nylons.
Excellent machinability.
Provides lubrication without external additives.
The natural oil-filled material will not pose any risk of contamination, and will never dry out.
To identify your food-grade plastic needs, consult our guide: Performance plastics for the food industry.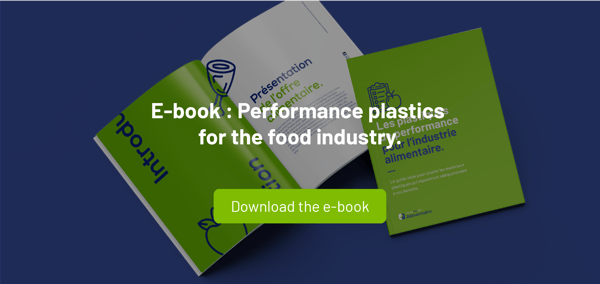 Alternatives to Nyloil® FG:
Although Nyloil® FG is perfectly suitable for the food industry, other options are also available to meet even more specific needs. One first option is PEEK® (polyetheretherketone), an ultra-performing plastic adapted for environments where temperature is a major issue. The very high heat resistance of this performance plastic allows to withstand temperature ranges between -40 °C and 250 °C. Just as the Nyloil® FG, moisture absorption and coefficient of friction are very low. In addition to being FDA compliant, PEEK® has also high resistance to chemicals and mechanical stresses.
Another option is the UHMW TIVAR® HPV which contains a dry lubricant to reduce its coefficient of friction by 80%. This plastic is specifically designed to improve flow and efficiency on high-speed production lines. Wearing guides and strips made with TIVAR® HPV will extend production periods and reduce maintenance shutdowns.
These performance plastics will therefore reduce friction between points of contact on production lines without the need to add lubricant agent that can contaminate food products. To go even further with food safety on production lines, one other option might be Metal Detectable plastics (MD) that are self-lubricating and compliant for direct contact with food. To learn more about this product, check out our blog post.