We often hear about the FDA, an agency that operates in the United States but whose decisions have an impact far beyond the U.S. borders. But what is the FDA or the Food and Drug Administration? Although we often hear the name of this organization and can think of some of its jurisdiction, we may not really know the full role of this organization or how it impacts our daily lives. Just as the Americans have the FDA, we also have a Canadian agency that has a very similar role: the Canadian Food Inspection Agency (CFIA). These two agencies have also signed an arrangement to recognize each other's food safety systems as comparable to each other.
The Food and Drug Administration is an agency that is responsible for the regulations and control in all steps of the commercialization of drugs and food products. The FDA's mission is to protect public health by ensuring that food and drugs production and all related products meet established regulations and standards. In addition to its power to act in terms of food and drugs production and commercialization, the scope of FDA's regulatory authority is very broad:
Medical devices
Electronic products that give off radiation
Vaccines for humans and biomedical technologies
Dietary supplements
Veterinary products
Cosmetics and personal care products
Tobacco products
An FDA-Approved Product
Indeed, the FDA's responsibility is to determine whether a product, under its jurisdiction, is safe enough for consumers. Its mandate is to determine whether the benefits provided by the product outweigh the potential long-term risks to human or animal health. Thus, when a product is approved by the FDA, it means that the Food and Drug Association concluded, based on the scientific data provided by the company that wishes to market a new product, that the benefits offered by the product outweigh its potential risks.
Technically, the FDA does not conduct any additional research on a product and will instead make its decision following the expert analysis of the scientific data provided by the manufacturer who wishes to have its product approved.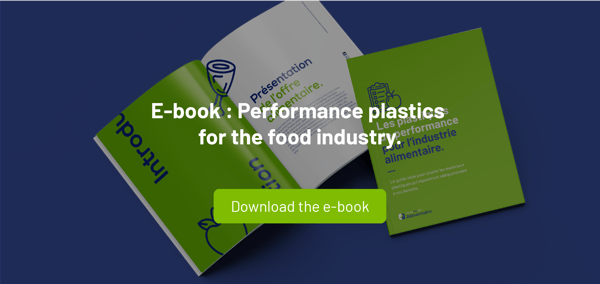 Applications of Plastic Materials in the Food Industry
The food industry uses widely plastic materials for packaging, and many of them are single use. However, this industry uses plastics for other purposes than the marketing of their products. This unknown application is related to performance plastic materials used to make conveyor coatings, guides on the production line, mechanical parts, funnels, acceleration strips and others related applications.

These materials are incorporated into the production and food packaging and processing equipment. The selection of these materials is not a random process, as it is critical to consider the fact that they will be in direct contact with the food. As a result, the plastic materials should not pose any risk to both consumer health and food quality. They must also be food grade approved in the event that a plastic particle accidentally falls onto the production line or even directly into a food product.
To meet the highest standards and requirements of the FDA, a plastic material must be:
Well suited to its application; it must be able to maintain its properties when exposed to the stress of a food production line (friction, heat, chemicals, etc.)
Have the ability to withstand chemicals, including cleaners and agents used to sterilize or sanitize production lines and processing equipment;
Provide excellent moisture resistance (a very low rate of moisture absorption).
Plastics that Meet FDA Standards
Metal Detectable plastics are materials that are specifically designed to improve food safety. MD plastics contain a metal-based additive that allows the plastic to be detected by industrial metal detectors if a piece of metal detectable plastic happens to come loose and accidentally fall on to the production line.

Among those are TIVAR® MD, ACETRON® MD, NYLATRON® MD and KETRON® MD.

UHMW: Many grades of UHMW are specifically designed for the food industry because they are very resistant to wear and are perfectly suited to be in direct contact with food. TIVAR® H.O.T. and TIVAR® HPV are excellent examples of UHMW grades that meet FDA standards.

The nylons family also includes plastics that, in addition to meet the high food quality standards, are also self-lubricating. Their chemical compositions naturally reduce friction without the need of lubricant additive. A good example is the NYLOIL® FG.