What is Stainless Steel?
It is a metallic alloy that, as the name suggests, contains mainly steel. A steel to which other metals have been added in concentrations that will vary depending on the type of stainless steel. This combination of metals aims to improve specific properties of steel, especially in order to enhance it corrosion resistance.
Stainless steel is an alloy that contains a certain amount of carbon, chromium and other metals that provide a variety of characteristics. Many grades of stainless steel are available but are not all suitable for the food industry. Indeed, to be used in food and beverage production, processing and food packaging applications, the most appropriate type of stainless steel will be very resistant to corrosion and wear, and above all, will be food grade approved.


The Friction Between Plastic and Stainless Steel
As mentioned in a previous article about cross-contamination, the safety and hygiene of food production facilities is an issue that greatly concerns the Quebecers. Indeed, 79% of Quebecers think that the greatest food issue is the safety of food production infrastructure. The use of materials designed for direct contact with food and that are non-contaminant is a very efficient way to ensure the quality of food production. In this article, we will focus on a very specific issue about conveyors on food production chains, especially the one related to the contact between plastic and stainless steel. When a plastic part comes into direct contact with a stainless steel part repeatedly, this can cause a black grease buildup resulting from friction between these two materials.
It is important to understand why in order to apply corrective measures effectively. Also, we need to consider that this will change the safety conditions of food production and processing infrastructure. The friction between a performance plastic and a stainless steel part that is not low carbon content will produce a black grease buildup that will make the components cleanup more difficult. It will increase the risk of contamination and affect the finish.
Solutions to This Issue
Replace all equipment made with standard stainless steel by equipment made with the same low-carbon alloy, including 304L or 316L stainless steel. Although this option seems simple and very effective in improving corrosion resistance, and at the same time, avoiding the accumulation of black stains, it requires significant investment. Hopefully, there is another solution that is just as simple and effective, but much less expensive.
It is possible to avoid the grease buildup without having to replace all equipment. This is possible by the addition of high-performance plastic component to these parts where the point of contact is present between stainless steel and plastic material. Contact between two plastic materials will avoid direct contact between the two surfaces (stainless steel and plastic) that would create friction and cause premature wear of the equipment or part. This convenient and cost-effective solution provides many benefits:
Lower friction
Improve hygiene and safety
Ease the cleanup of conveyor systems
To learn more about performance plastics designed for the food industry, please consult our comprehensive guide!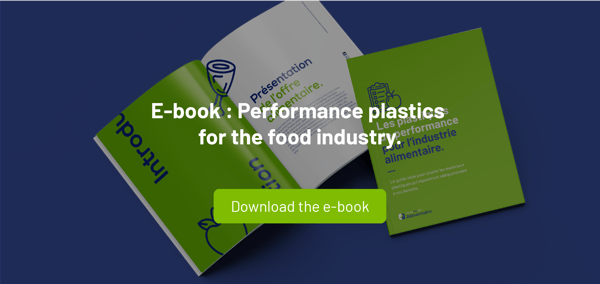 Optimal Solutions: Which Plastics to Choose?
In order to optimize the useful service life of the parts and minimize the risk of premature wear, the best option is to choose two different grades of high-performance plastic materials that have complementary properties. Different grades of material that come into contact will perform better than two plastics from the same product family.
Examples of effective combinations of performance plastics for conveyors and moving parts are:
Acetal with TIVAR® HPV
Nyloilwith TIVAR® HPV